What's this? A Book!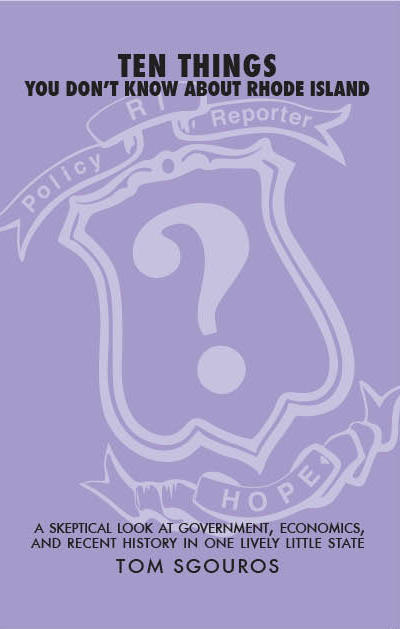 Or buy here: Light Publications, Powell's, or Bn, Amazon
A look at the lousy situation Rhode Island is in, how we got here, and how we might be able to get out.
Featuring
Budget Demystification!
Fiscal Derring-Do!
Economic Jiggery-Pokery!
Now at bookstores near you, or buy it with the button above ($14, or $18 with shipping and sales tax).
Contact information below if you'd like to schedule a book-related event, like a possibly entertaining talk on the book's subjects, featuring the famous mystery graph.
---
Join the RIPR Mailing List! For a weekly column and (a few) other items of interest, click here or send an email to ripr-list-subscribe@whatcheer.net.
RIPR is a (paper) newsletter and a weekly column appearing in ten of Rhode Island's finer newspapers. The goal is to look at local, state and federal policy issues that affect life here in the Ocean State, concentrating on action, not intentions or talk.
If you'd like to help, please contribute an item, suggest an issue topic, or buy a subscription. If you can, buy two or three (subscribe here).
Search this site
Available Back Issues:
Issues are issued in paper. They are archived irregularly here.
Subscription information:
Contact:
For those of you who can read english and understand it, the following is an email address you are welcome to use. If you are a web bot, we hope you can't understand it, and that's the point of writing it this way.
editor at whatcheer dot net
Archive:
Deep archive
About
The Rhode Island Policy Reporter is an independent news source that specializes in the technical issues of public policy that matter so much to all our lives, but that also tend not to be reported very well or even at all. The publication is owned and operated by Tom Sgouros, who has written all the text you'll find on this site, except for the articles with actual bylines.
Responsibility:
Tom Sgouros
Mon, 24 Nov 2008
I don't completely understand the details behind the idea that we are going to make $7.4 trillion available, but I understand a couple of things about it:
There was no plan for the $700 billion, and so the half of it that was spent was essentially wasted. It allowed Wells Fargo to buy Wachovia on our dime (which may have contributed to Citigroup's stock price collapse), and it allowed some AIG executives to party on. What else? Where we did wind up owning things, we did it on terms that do not allow us any control.
Not only is the crisis the result of having infantile ideologues mind the store — people who never saw a market they didn't want to deregulate — but they have completely screwed up the rescue effort, too.
What a country.
10:37 - 24 Nov 2008 [/y8/no]
Fri, 21 Nov 2008
Did you know that our state taxes are below the national average? Did you know that this fun fact comes via the Tax Foundation, whose crazy methodology exaggerates the impact of our income tax? Don't believe me; check it out for yourself.
For once, I wish we could have a debate in this state about the reality of taxes, without getting all tangled up in the bizarre civic self-loathing our policy makers suffer from.
23:39 - 21 Nov 2008 [/y8/no]
Wed, 05 Nov 2008
07:09 - 05 Nov 2008 [/y8/no]
Sat, 01 Nov 2008
A friend passed along a fascinating perspective on the bailout by an executive at a big bank, here. See especially comment number 56, which is a rebuttal of a number of the comments, from the original emailer.
09:39 - 01 Nov 2008 [/y8/no]
Ads and the like: