What's this? A Book!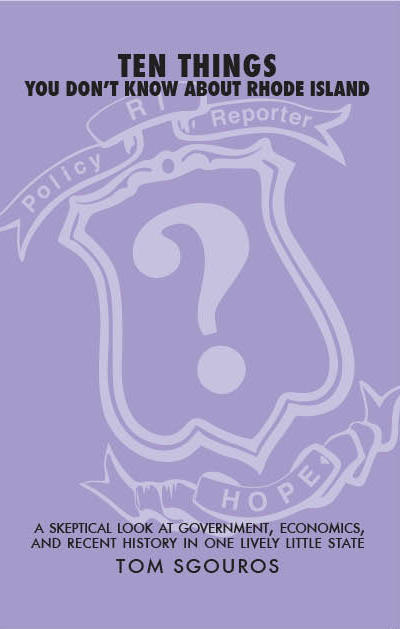 Or buy here: Light Publications, Powell's, or Bn, Amazon
A look at the lousy situation Rhode Island is in, how we got here, and how we might be able to get out.
Featuring
Budget Demystification!
Fiscal Derring-Do!
Economic Jiggery-Pokery!
Now at bookstores near you, or buy it with the button above ($14, or $18 with shipping and sales tax).
Contact information below if you'd like to schedule a book-related event, like a possibly entertaining talk on the book's subjects, featuring the famous mystery graph.
---
Join the RIPR Mailing List! For a weekly column and (a few) other items of interest, click here or send an email to ripr-list-subscribe@whatcheer.net.
RIPR is a (paper) newsletter and a weekly column appearing in ten of Rhode Island's finer newspapers. The goal is to look at local, state and federal policy issues that affect life here in the Ocean State, concentrating on action, not intentions or talk.
If you'd like to help, please contribute an item, suggest an issue topic, or buy a subscription. If you can, buy two or three (subscribe here).
Search this site
Available Back Issues:
Issues are issued in paper. They are archived irregularly here.
Subscription information:
Contact:
For those of you who can read english and understand it, the following is an email address you are welcome to use. If you are a web bot, we hope you can't understand it, and that's the point of writing it this way.
editor at whatcheer dot net
Archive:
Deep archive
About
The Rhode Island Policy Reporter is an independent news source that specializes in the technical issues of public policy that matter so much to all our lives, but that also tend not to be reported very well or even at all. The publication is owned and operated by Tom Sgouros, who has written all the text you'll find on this site, except for the articles with actual bylines.
Responsibility:
Tom Sgouros
Fri, 31 Mar 2006
How do we cut health spending when our economy depends on it? by Greg Gerritt
What does it really mean that Massachusetts has more rich people than RI does?
Why might the median wage in Rhode Island mean something different than the median wage in Massachusetts or Connecticut?
Are poor people flooding into Rhode Island to take advantage of our welfare laws?
Review of Crashing the Gate by Jerome Armstrong and Markos Moulitsas Zuniga.
Didn't you mean to subscribe a while ago? No time like the present.
09:30 - 31 Mar 2006 [/y6/ma]
Thu, 23 Mar 2006
How's it really going after 15 years of experience with vouchers that allow parents to opt out of the public school system? There was a column about this by John Tierney of the New York Times last week, praising the successes of choice in that city. But last year the Milwaukee Journal-Sentinel published a seven-part series on the subject. You may be interested to hear what it had to say.
Many thanks to the Daily Howler.
12:56 - 23 Mar 2006 [/y6/ma]
Tue, 21 Mar 2006
When, you might ask, did foreign ownership of domestic companies become equated with international tariffs? "Protectionism" used to refer only to the second. But now defenders of the Dubai port deal and many other inequities of the current world economy want it to refer to the first as well. See here.
20:56 - 21 Mar 2006 [/y6/ma]
Wed, 15 Mar 2006
Bird flu is now found in Europe, after having spread from SE Asia. Quick, what migratory birds winter in Asia and summer in France?
Answer: probably none, which is why the bird flu is probably caused and spread by industrial farming practice rather than wild birds and backyard flocks. See here for a report from GRAIN an advocacy group that supports sustainable agriculture, among other things.
11:56 - 15 Mar 2006 [/y6/ma]
Mon, 06 Mar 2006
Are we driving rich people away?
Much is made lately of a statistic that says that 1.86% of Rhode Islanders report more than $200,000 in adjusted gross income to the IRS, while in Massachusetts the comparable figure is 3.06%. The implication is that short-sighted tax policy is driving rich people from our arms to tax havens like Massachusetts. (These are numbers for the 2004 tax year.)
This could be the truth. On the other hand, it seems that the comparable numbers for 2001 are 1.67% and 3.18%. In other words, we have more rich people now than we did in 2001, and Massachusetts has fewer. So tell me again how we're driving them away?
To be quite honest about it, the comparable numbers from 1997 are 1.24% and 2.09%. So the rise is almost exactly comparable in both states. Which is to say that there's no evidence that we're attracting rich people, but there's little evidence that we're driving them away, either.
The whole thing is predicated on the idea that more rich people means more prosperity for all of us. This is just another version of the trickle-down story that Ronald Reagan's allies sold to a gullible public in the 1980's. On what evidence do people believe this to be true? There is little enough that one unavoidably suspects this is a species of religious belief.
There is counter-evidence, though. The article just below points to data that show that rich people have been inimical to the interests of their employees over the past 30 years. That's data, not religion.
10:02 - 06 Mar 2006 [/y6/ma]
Ads and the like: