What's this? A Book!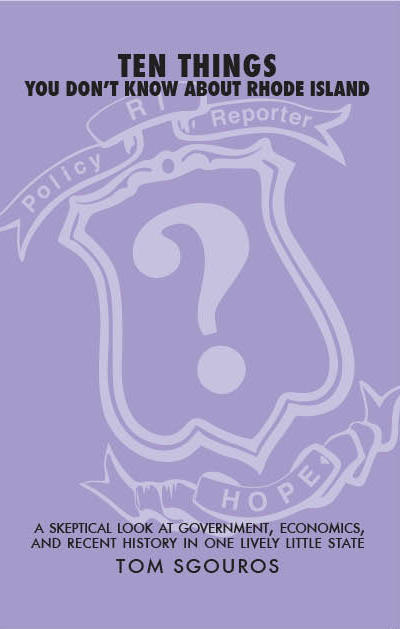 Or buy here: Light Publications, Powell's, or Bn, Amazon
A look at the lousy situation Rhode Island is in, how we got here, and how we might be able to get out.
Featuring
Budget Demystification!
Fiscal Derring-Do!
Economic Jiggery-Pokery!
Now at bookstores near you, or buy it with the button above ($14, or $18 with shipping and sales tax).
Contact information below if you'd like to schedule a book-related event, like a possibly entertaining talk on the book's subjects, featuring the famous mystery graph.
---
Join the RIPR Mailing List! For a weekly column and (a few) other items of interest, click here or send an email to ripr-list-subscribe@whatcheer.net.
RIPR is a (paper) newsletter and a weekly column appearing in ten of Rhode Island's finer newspapers. The goal is to look at local, state and federal policy issues that affect life here in the Ocean State, concentrating on action, not intentions or talk.
If you'd like to help, please contribute an item, suggest an issue topic, or buy a subscription. If you can, buy two or three (subscribe here).
Search this site
Available Back Issues:
Issues are issued in paper. They are archived irregularly here.
Subscription information:
Contact:
For those of you who can read english and understand it, the following is an email address you are welcome to use. If you are a web bot, we hope you can't understand it, and that's the point of writing it this way.
editor at whatcheer dot net
Archive:
Deep archive
About
The Rhode Island Policy Reporter is an independent news source that specializes in the technical issues of public policy that matter so much to all our lives, but that also tend not to be reported very well or even at all. The publication is owned and operated by Tom Sgouros, who has written all the text you'll find on this site, except for the articles with actual bylines.
Responsibility:
Tom Sgouros
Thu, 22 May 2008
The Governor convened his economic thinkers to talk about the state's economy. Here's how he was quoted in the Projo:
The state is "making some real progress," he said, in making large investments in its infrastructure. He said that the relocation of Route 195, the rebuilding of the Washington Bridge, as well as other major projects amounts to a total investment of $5 billion to $6 billion over four to five years.
The problem? Not a single dime of that "$5 billion to $6 billion" will actually increase the state's transportation capacity. All of it is to preserve the capacity of existing transportation links (e.g. the train tracks already existed, but changes in train schedules and practices forced the upgrade), or prevent their collapse. The changes to 195 and 95 are in lieu of maintenance, but won't significantly improve the speed of transportation or capacity of the roads. The changes to the Washington bridge will create fewer jams there, but it won't change the capacity of other stretches of that highway, so will likely just move the bottle neck to another spot. The Sakonnet River bridge is just a replacement, so the net economic effect of that will only be to put a few businesses out of business.
So the question is: exactly how are these infrastructure improvements going to improve the state's economy?
Economists talk of infrastructure improvements as important because when they're done, you can do stuff you couldn't do before. But when these improvements are done, we'll only be able to do the stuff we could do before, and no more. Expecting these to have an economic impact is magical thinking. Of course there is the impact of spending that much money in the state's economy, but we could have had those road crews digging and filling in holes for that.
11:27 - 22 May 2008 [/y8/my]
Tue, 13 May 2008
An article here points out that a properly done cap-and-trade carbon policy would have a progressive (in the technical sense of tax policy) effect. It also points out that doing things John McCain's way might be as effective in the environmental sense, but have a regressive effect, and provide a windfall to electric producers and oil companies. More later.
10:37 - 13 May 2008 [/y8/my]
Ads and the like: